แผ่นรองจานซิลิโคนมัมเบล่ารูปสวนสัตว์พร้อมสีสำหรับเด็ก 4 แท่ง (Mombella Zoo Reusable Silicone Coloring Plate Mat )
แผ่นรองจานและระบายสี อุปกรณ์ช่วยคุณพ่อคุณแม่ให้เด็กสนุกระหว่างรอ สามารถล้างหรือเช็ดทำความสะอาดด้วยผ้าสะอาดเพื่อมาใช้ได้ใหม่
มาพร้อมปากกาเมจิก Non-toxic 4 สีสำหรับเด็ก สามารถเช็ดล้างออกด้วยน้ำ กลิ่นไม่แรง
แผ่นรองจานซิลิโคนฟู้ดส์เกรดคุณภาพสูง BPA free, 6P free, toxic free, และปราศจากสารตะกั่ว ได้รับการรับรองจาก FDA (อเมริกา) และ มอก.
สนุกกับลายรูปสัตว์แบบต่างๆ เสริมความรู้และเพิ่มจินตนาการ
มาพร้อมถุงใส่ สามารถม้วนเก็บได้ สะดวกในการพกพา
ทนความร้อนได้ถึง 220C สะดวกในการนึ่งหรือต้มเพื่อฆ่าเชื้อโรค สามารถเข้าไมโครเวฟได้อย่างปลอดภัย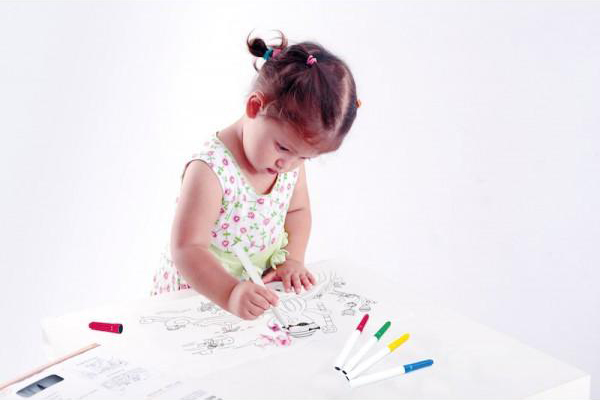 Mombella Zoo Reusable Silicone Colouring Plate mat
MAKE WAITING /TRAVELING TIME FUN: Change the boring waiting time to fun and creative moment.
Each Mombella place mat pack has 1 mat, 4 marker pens and a travel bag. Easy for packing and travelling. Light, small and able to fit in your purse.
Mat is made from FDA approved food grade silicone. BPA free, lead free, 6P free and toxic free.
Reusable. Clean by washing or wiping by clean cloth.
Certified non-toxic pen. Easy to wash by water.
Stand temperature from -40 C- 220 C, easy to sterilise. Able to put in Microwave or freezer for better soothe.