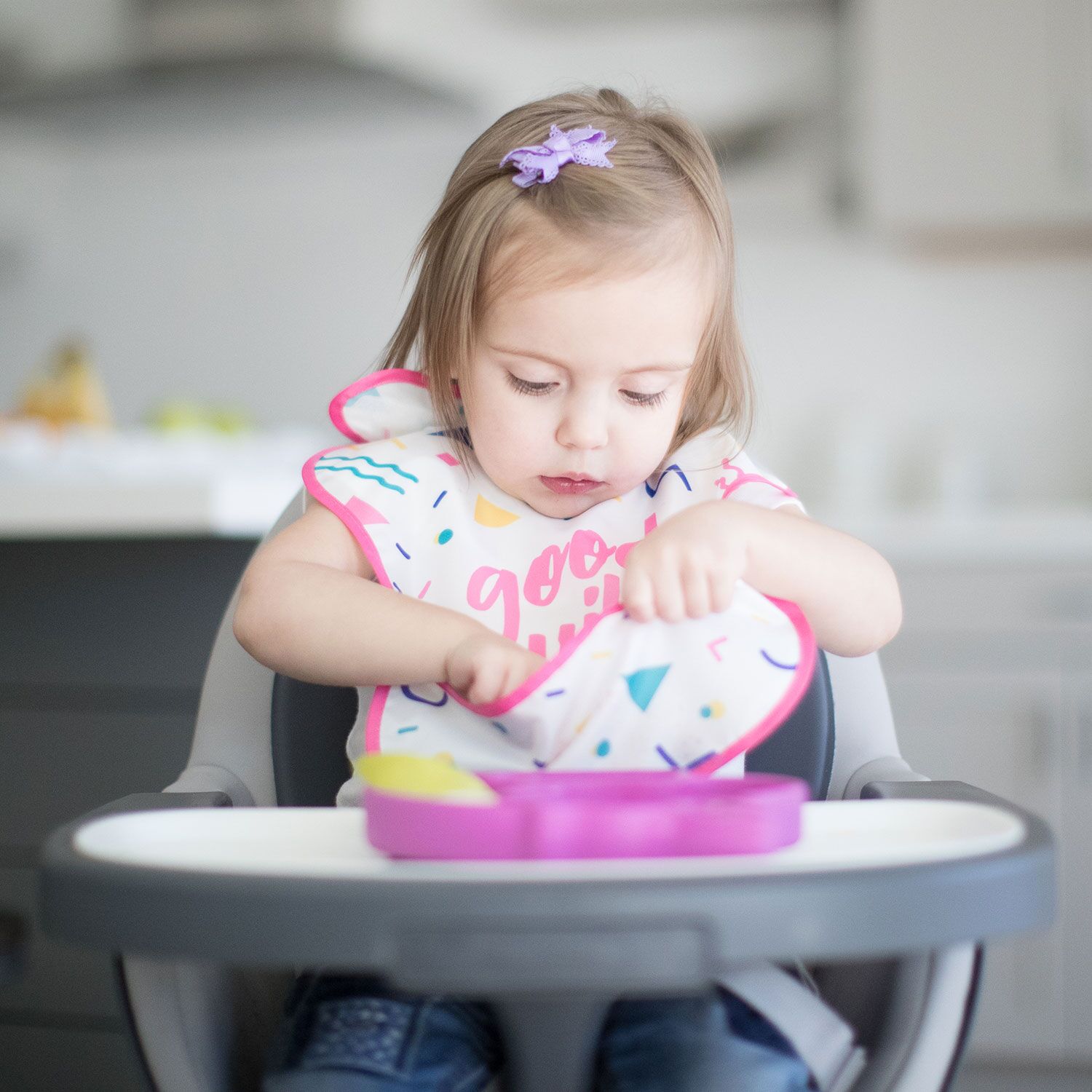 ผ้ากันเปื้อน สำหรับน้องวัย 6 เดือน ถึง 1 ขวบ และ เสื้อคลุมสำหรับ น้อง 1 ขวบ – 7 ขวบค่ะ นอกจากนี้ยังมีผลิตภัณฑ์อื่นๆ ที่ผลิตจากวัสดุกันน้ำประเภทเดียวกัน ที่น่าสนใจ
ได้แก่ ถุงผ้าเปียก, ถุงผ้าเปียก/แห้ง 2 in 1, ถุงเอนกประสงค์ขนาดใหญ่ และผ้าปูรองสำหรับทำกิจกรรมค่ะ

ผ้ากันเปื้อน Bumkins มีลวดลายสวยงาม สีสันสดใส ซึ่งแตกต่างจากผ้ากันเปื้อนในปัจจุบัน
ผ้ากันเปื้อน Bumkins มีน้ำหนักเบา และ ระบายอากาศได้ดี ไม่ทำให้รู้สึกรำคาญขณะสวมใส่

ผ้ากันเปื้อน Bumkins ทำจากวัสดุกันน้ำ แบบลื่น ไม่ทำให้เกิดคราบฝังแน่น ดูแล รักษาทำความสะอาดได้ง่าย เพียงล้างด้วยน้ำเปล่า

ผ้ากันเปื้อน Bumkins สามารถซักด้วยเครื่องซักผ้าได้ ไม่ทำให้ผ้ากันเปื้อนเสียรูปทรง หรือ ฉีกขาด
Made from Bumkins' lightweight, easy wipe, machine washable waterproof fabric, the SuperBib® is both comfortable and durable. Sized to fit ages 6 to 24 months, these bibs feature a back shoulder hook-and-loop closure for a quick, adjustable and tug-proof fit. With a handy catch-all pocket for containing spills, this bib is a great addition to any mealtime!

Sized to fit 6-24 months with an adjustable hook-and-loop closure

Made from Bumkins' easy wipe, stain and odor resistant, waterproof fabric with a catch-all pocket

Machine washable, hang dry (flip pocket)

Each bib measures approximately 10" across, 9" from neck down

BPA, PVC, Vinyl, Phthalate and Lead free

Our single SuperBibs are also available in Disney and DC Comics designs!
Designed in Arizona, responsibly made in China.